My husband's dialysis access was in real trouble. We had to do a femoral tunneled catheter in his thigh to give the fistula a rest because he has a pacemaker and a powerport on either side of his chest. Those things are not safe to keep in for a long time even though we work really hard to keep it clean and dry. I was having real difficulty and a good deal of trepidation about cannulating him again even though we have done home hemodialysis and I have been cannulating his arm for over 9 years. After a fistula gram, something changed and things just weren't working. Stuart Mott help me more than I could have ever imagined. He talked me through every step of the process. My husband and I simply can't thank him enough. I have my confidence back and am now armed with a variety of techniques that will enable me to take excellent care of my husband and his dialysis access. We even got some of them on film to share with you all. Stay tuned. I have dubbed Stuart the Dialysis Fistula Whisperer (DFW)! He is our hero! Honestly we could not have succeeded without his support.
Before - what a mess, frightening and caused hospitalization for a femoral tunneled catheter.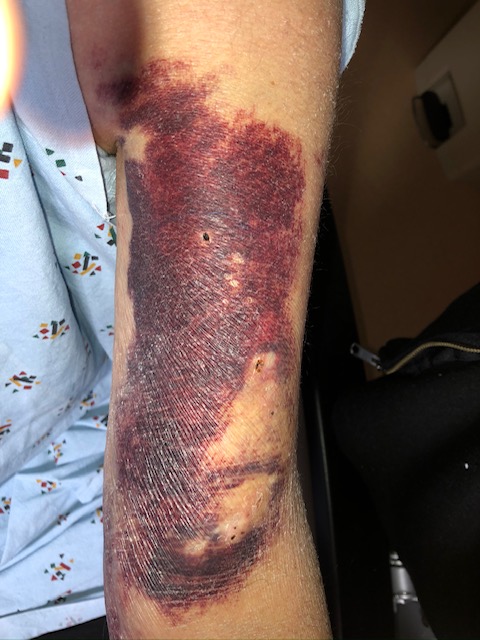 After - A successful cannulation with blunt JMS Harmony 15 g x 1" needles using Stuart Mott's Cushion Cannulation and Touch Cannulation techniques. Oh, and we do nocturnal treatment so I use a lot of tape.